Mike Nykoluk (Born: December 11, 1934, Toronto, Ontario) is a retired Canadian professional hockey forward who played one season in the National Hockey League for the Toronto Maple Leafs and who coached for seven seasons in the National Hockey League for the Philadelphia Flyers, New York Rangers and Toronto Maple Leafs.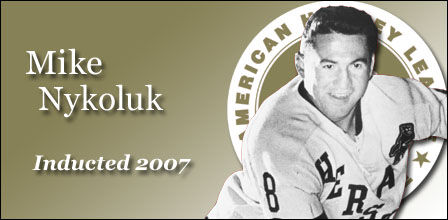 Nykoluk began his professional career with the Rochester Americans of the AHL in 1956–57. That season with Rochester, he was called up to play in the NHL for the Toronto Maple Leafs. The 32 games he played for Toronto would be his only stint in the NHL. He only mustered 4 points in those 32 games. He was sent back down to the Americans and went on to have an extensive playing career for the Hershey Bears of the AHL playing for 14 seasons before retiring. He was then offered a job with the Philadelphia Flyers as an assistant to head coach Fred Shero. Nykoluk helped the Flyers win the Stanley Cup in 1974, 1975. He later became assistant coach of the New York Rangers from 1978–1980 and head coach of the Toronto Maple Leafs for three seasons ending in 1984.thumb|400px|right| AHL Hall of Fame induction video for Mike Nykoluk, Class of 2007.
Team
Year
Regular Season
Post Season
G
W
L
T
OTL
Pts
Finish
Result
TOR
1980–81
40
15
15
10
-
(71)
5th in Adams
Lost in First Round
TOR
1981–82
80
20
44
16
-
56
5th in Norris
Did Not Qualify
TOR
1982–83
80
28
40
12
-
68
3rd in Norris
Lost in First Round
TOR
1983–84
80
26
45
9
-
61
5th in Norris
Did Not Qualify
Memorial Cup Championship (1955)
Calder Cup (AHL) Championships (1959 & 1969)
AHL Second All-Star Team (1967)
Les Cunningham Award (AHL) MVP (1967)
AHL First All-Star Team (1968)
Stanley Cup Championship (1974, 1975 as an Ass't Coach)
Community content is available under
CC-BY-SA
unless otherwise noted.