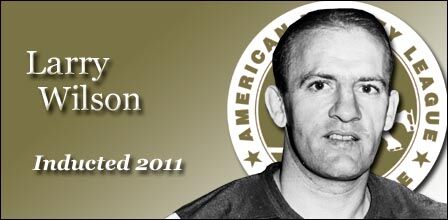 Lawrence Wilson (October 23, 1930 – August 16, 1979) was a professional ice hockey forward and head coach.
In the National Hockey League (NHL), he played 152 career games with the Detroit Red Wings and Chicago Black Hawks, winning the Stanley Cup in his first year with Detroit (1949–50). His name was engraved on the Stanley Cup in 1950. Wilson would later become the interim head coach of the Red Wings during the 1976–77 NHL season. He was also head coach of the Kansas City Red Wings in the CHL for the 1977-78 season and 1978-79 season.thumb|400px|right|AHL Hall of Fame induction video for Larry WIlson, Class of 2011.
During the summer of 1979, he died of an apparent heart attack while jogging. He was the father of former NHL player and coach Ron Wilson, and the brother of former NHL player and coach Johnny Wilson.