The ECHL (formerly the East Coast Hockey League) is a mid-level professional ice hockey league based in Princeton, New Jersey, with teams scattered across the United States and Canada, generally regarded as a tier below the American Hockey League. The ECHL's official website lists the league as "The Premier AA" league of hockey in North America, because most teams serve as feeder teams for American Hockey League teams. Hockey does not use letter-designations to define their league's levels, but the ECHL has tried for years to establish such a pecking order, with some success.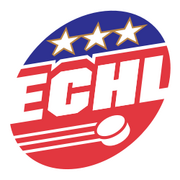 The ECHL, along with the AHL, are the only minor leagues recognized by the collective bargaining agreement between the National Hockey League and the National Hockey League Players' Association, meaning any player signed to an entry-level NHL contract and designated for assignment must report to a club either in the AHL or the ECHL.
Teams
[
]
Current
[
]
Notes
An asterisk (*) denotes a franchise move. See the respective team articles for more information.
Defunt and Relocated Teams
[
]

Official ECHL Website: http://www.echl.com/

Since this is not a Wiki about the ECHL, go to its Wikipedia page for more detailed information about defunct ECHL teams and its trophies: http://en.wikipedia.org/wiki/ECHL