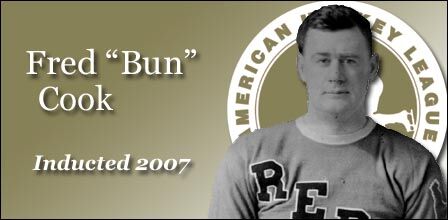 thumb|400px|right| AHL Hall of Fame induction video for Fred "Bun" Cook, Class of 2007.
Frederick Joseph 'Bun' Cook (September 18, 1903 in Kingston, Ontario - March 19, 1988) was a Canadian professional ice hockey forward who played for the New York Rangers and Boston Bruins in the National Hockey League and the Saskatoon Crescents in the Pacific Coast Hockey Association.
Cook was part of the Bread Line with his brother Bill Cook and Frank Boucher. The line scored every Ranger goal in the Stanley Cup finals in 1928, leading the team to its first Cup. He won a second Cup in 1933 with the Rangers. He was inducted into the Hockey Hall of Fame in 1995.
Career Statistics
[
]
 
 
Regular Season
 
Playoffs
Season
Team
League
GP
G
A
Pts
PIM
GP
G
A
Pts
PIM
1924–25
Saskatoon Sheiks
WCHL
28
18
3
21
48
—
—
—
—
—
1925–26
Saskatoon Sheiks
WCHL
30
9
5
14
20
—
—
—
—
—
1926–27
New York Rangers
NHL
44
14
9
23
42
2
0
0
0
2
1927–28
New York Rangers
NHL
44
14
14
28
45
9
2
1
3
10
1928–29
New York Rangers
NHL
43
13
5
18
70
6
1
0
1
12
1929–30
New York Rangers
NHL
43
24
18
42
55
4
2
0
2
2
1930–31
New York Rangers
NHL
44
18
17
35
72
4
0
0
0
2
1931–32
New York Rangers
NHL
45
14
20
34
43
7
6
2
8
12
1932–33
New York Rangers
NHL
48
22
15
37
35
8
2
0
2
4
1933–34
New York Rangers
NHL
48
18
15
33
36
2
0
0
0
2
1934–35
New York Rangers
NHL
48
13
21
34
26
4
2
0
2
0
1935–36
New York Rangers
NHL
26
4
5
9
12
—
—
—
—
—
1936–37
Boston Bruins
NHL
40
4
5
9
8
—
—
—
—
—
1937–38
Providence Reds
AHL
19
0
1
1
14
—
—
—
—
—
1938–39
Providence Reds
AHL
11
1
3
4
4
—
—
—
—
—
1939–40
Providence Reds
AHL
1
0
0
0
0
—
—
—
—
—
1940–41
Providence Reds
AHL
1
0
0
0
0
—
—
—
—
—
1941–42
Providence Reds
AHL
2
0
1
1
0
—
—
—
—
—
1942–43
Providence Reds
AHL
3
1
1
2
4
—
—
—
—
—
NHL Totals
473
158
144
302
444
46
15
3
18
46