Bruce Allan Boudreau (born January 9, 1955) is a Canadian professional ice hockey head coach who currently coaches the Washington Capitals of the National Hockey League (NHL). As a player, Boudreau played professionally for 20 seasons, logging 141 games in the NHL and 30 games in the World Hockey Association (WHA). He played for the Toronto Maple Leafs and the Chicago Blackhawks of the NHL and the Minnesota Fighting Saints of the WHA. Boudreau won the Jack Adams Award for the NHL's most outstanding head coach in the 2007-08 NHL season.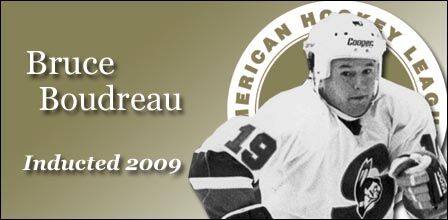 While Boudreau's major professional career was modest, he had a long career in the minor leagues, and was one of the most prolific minor league scorers of all time, largely in the American Hockey League (AHL). His junior career was spent with the Toronto Marlboros of the Ontario Hockey Association (OHA), for which he averaged over 100 points a season. He scored 165 points in his final season in juniors, adding 44 points in 27 games en route to captaining the Marlies to a Memorial Cup championship. He was awarded the Eddie Powers Memorial Trophy as the top goal scorer for the 1974–75 OMJHL season.
After being drafted in the third round, 42nd overall, by the Toronto Maple Leafs, Boudreau could not agree with Toronto on a contract and joined the Minnesota Fighting Saints of the WHA, making his professional debut in 1975.
Spending most of the early part of his professional career with Maple Leaf farm teams in Dallas, New Brunswick and St. Catharines, Boudreau also spent significant time playing for the Springfield Indians (for whom he won his only scoring championship (John B. Sollenberger Trophy), in 1988), the Fort Wayne Komets and the Nova Scotia Oilers. His most significant NHL time came in 1981, when as an injury replacement he scored 10 goals and 14 assists in only 39 games.
He remained a minor league star and top scorer right through his final season in 1992. His final game came in Springfield where he had been signed by the Adirondack Red Wings as an emergency injury replacement during their first round Calder Cup playoff series against the Indians.
Playing Achievements and Facts
[
edit
|
edit source
]
Boudreau remains the 14th leading all-time goal scorer in the AHL with 316, also currently 11th in assists with 483, and 11th in points with 799. For the minor leagues as a whole, Boudreau is 8th all time with 1,368 points, and 13th in both goals and assists with 548 and 820 respectively; he is in the top 25 all-time scorers for professional hockey.thumb|400px|right| AHL Hall of Fame induction video for Bruce Boudreau, Class of 2009.
While playing for the Johnstown (PA) Jets early in his career, Boudreau had a minor role in the hit hockey movie Slap Shot, appearing briefly wearing the green sweater (#7) of the opposing Presidents against the Hanson brothers' Chiefs.
Scored 100 points or more for five separate minor league teams.
Named to the Central Hockey League's Second All-Star Team in 1982.
Named to the American Hockey League's First All-Star Team in 1988.
Inducted into the 2009 class of the AHL Hall of Fame.
Team Records - Springfield Indians
Assists in a season: 74, 1987–1988
Points in a season: 116, 1987–1988
Awards
Eddie Powers Memorial Trophy - 1974–75 OMJHL season, Toronto Marlboros
John B. Sollenberger Trophy - 1987–88 AHL season, Springfield Indians
Memorial Cup and J. Ross Robertson Cup with the 1974–75 Toronto Marlboros
After his playing days were over, Boudreau began a highly successful coaching career. In the minor leagues, Boudreau has coached the Muskegon Fury, Fort Wayne Komets, Mississippi Sea Wolves, Lowell Lock Monsters, Manchester Monarchs, and Hershey Bears.
Under Boudreau's leadership, the Bears won the 2006 AHL Calder Cup championship. The Bears made it all the way back to the Calder Cup finals under Coach Boudreau again in 2007, ultimately falling to the Hamilton Bulldogs.
Previously, Boudreau coached the Mississippi Sea Wolves to the ECHL Championship in 1999, and also led the Fort Wayne Komets to the IHL Finals in 1994. Boudreau was awarded the Commissioner's Trophy as coach of the 1993–94 Komets.
Boudreau was named interim head coach of the NHL's Washington Capitals on November 22, 2007, and later their permanent coach on December 26. He compiled a 37–17–7 rookie coaching record with a team that was 6–14–1 when he inherited it. Under Boudreau's leadership, the 2007–08 Capitals won their first Southeast Division title in seven years and made the playoffs for the first time in five years. He also won the Jack Adams Award as the NHL's best coach in 2008.
Boudreau continued his success in his second season as coach of the Capitals, leading the Capitals to a record of 50-24-8 and 108 points, good for another Southeast division title and 2nd in the Eastern Conference.
In his third season with the Capitals Boudreau led the team to a 54-15-13 record and 121 points, which was not only good enough for a third straight Southeast division title but 1st in the Eastern Conference and the team's first ever Presidents' Trophy awarded to the team with the most points in the league, a vast improvement over their inaugural season of 8-67-5. Their success in the regular season, however, did not carry over to the postseason, as they lost to the 8th seeded Montreal Canadiens in 7 games, losing the last 3 games of the series.
Boudreau is known for his talkative personality, earning him the nickname "Gabby." In 2009, he released his memoir, Gabby: Confessions of a Hockey Lifer.
Team
Year
Regular Season
Post Season
G
W
L
OTL
Pts
Division Rank
W
L
Result
Washington Capitals
2007–08
61
37
17
7
81
1st Southeast
3
4
Lost 3-4 vs. Flyers (Conference Quarterfinals)
Washington Capitals
2008–09
82
50
24
8
108
1st Southeast
7
7
Won 4-3 vs. Rangers (Conference Quarterfinals)Lost 3-4 vs. Penguins (Conference Semifinals)
Washington Capitals
2009–10
82
54
15
13
121
1st Southeast
3
4
Lost 3-4 vs. Canadiens (Conference Quarterfinals)
Washington Capitals
2010–11
82
48
23
11
107
1st Southeast
4
5
Won 4-1 vs. Rangers (Conference Quarterfinals)Lost 0-4 vs. Lightning (Conference Semifinals)
Total
307
189
79
39
417
17
20
Community content is available under
CC-BY-SA
unless otherwise noted.